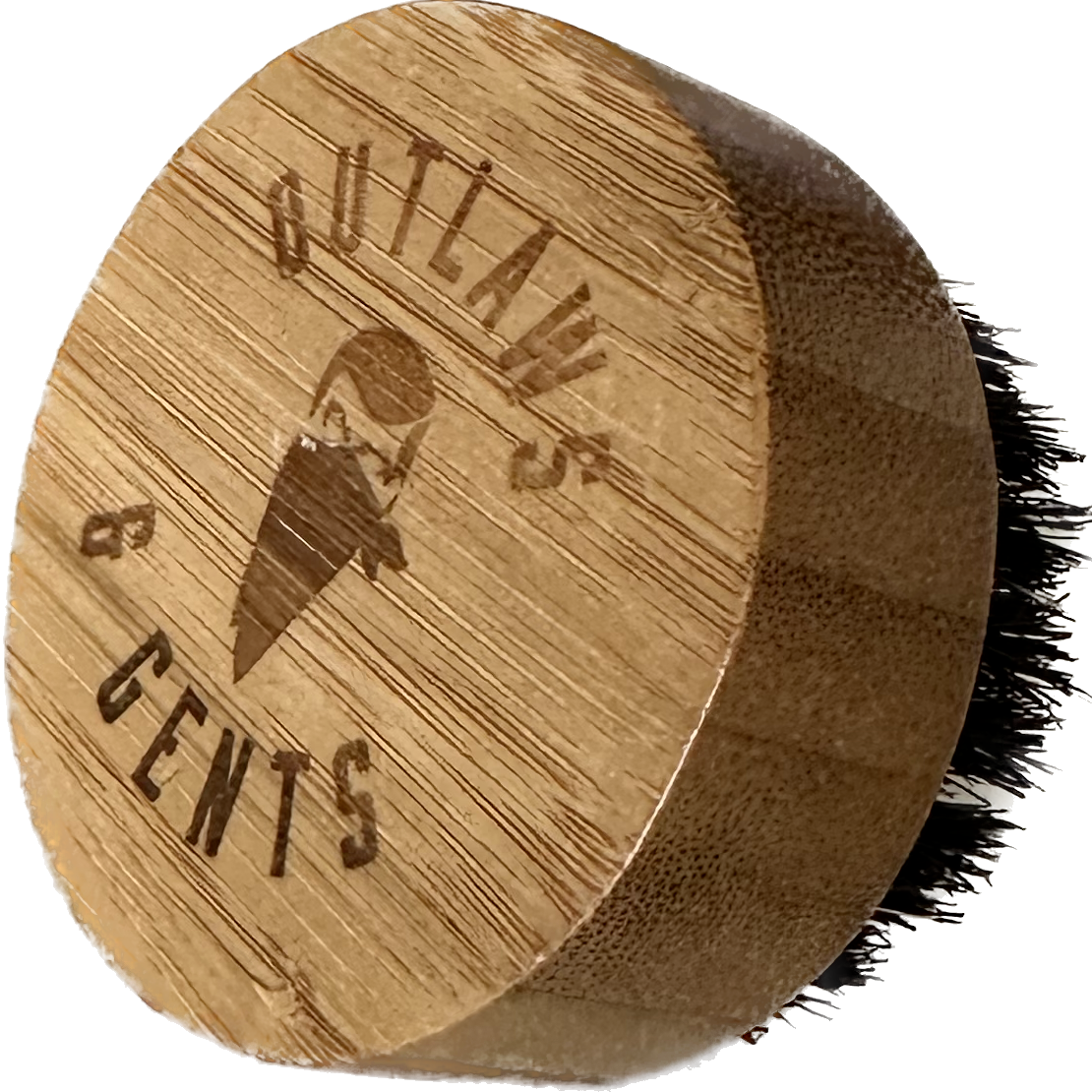 Beard Brush
---
Introducing the Outlaws and Gents Beard Brush, the ultimate grooming tool for the discerning gentleman who takes pride in his beard. Crafted with precision and designed to perfection, this beard brush will revolutionize your grooming routine, leaving you with a well-groomed and luxuriously soft beard.

Our Beard Brush is made with the finest materials to ensure exceptional quality and performance. The bristles are crafted from 100% natural boar hair, known for its ability to distribute the natural oils from your skin to your beard, promoting healthy hair growth and a lustrous shine. The bristles are firm yet gentle, providing the perfect balance between stimulating the skin and detangling knots, making it suitable for all beard lengths and types.

The ergonomic design of our Beard Brush is a testament to our commitment to both style and functionality. The solid wooden handle fits comfortably in your hand, providing a secure grip and allowing for precise control as you groom your beard. Its compact size makes it ideal for travel, ensuring that you can maintain your grooming routine wherever your adventures take you.

Using the Outlaws and Gents Beard Brush is a sensory experience in itself. As you run the brush through your beard, you'll feel the gentle massaging action of the bristles stimulating your skin, promoting blood circulation and encouraging healthy beard growth. The result? A softer, more manageable beard that exudes a sense of rugged elegance.

But it's not just about the performance—the Outlaws and Gents Beard Brush is a statement piece that adds a touch of sophistication to your grooming arsenal. The sleek design, featuring our brand logo engraved on the handle, reflects our commitment to timeless style and impeccable craftsmanship. Display it proudly on your grooming station, and let it be a symbol of your dedication to maintaining a well-groomed and distinguished appearance.

Invest in the Outlaws and Gents Beard Brush and experience the epitome of beard grooming excellence. Take your beard to the next level, transforming it into a testament of your individuality and refined taste. Embrace the art of grooming and unlock the full potential of your beard with this exceptional tool.

Join the ranks of the Outlaws and Gents and redefine what it means to have a truly magnificent beard. Elevate your grooming routine with our premium Beard Brush and enjoy the unrivaled experience of a well-groomed and effortlessly stylish beard. Unleash your inner outlaw and let your beard make a statement wherever you go.